Branded Production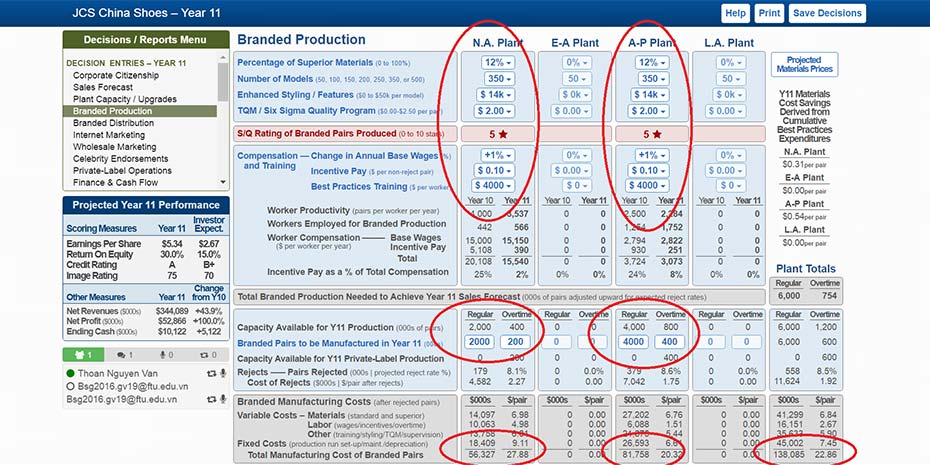 We will toggle the Materials, Enhanced Styling Features, TQM/Six Sigma Quality Programs and the other important factor, Best Practice Training, to get the expected S/Q, eg. 5-6-7 or other Stars.
This is important, because S/Q rating of branded pairs produces means Quality and Style of products, higher is better, and attract more customers, easier to sell, because of higher quality, better style. So we can set higher prices, sell more and get higher market share, get higher Image rating.
So, high S/Q is good, but we have to spend more, therefore, cost more. We need optimal decisions, so toggle to see the most optimal Cost of Branded Pairs, see bottom line, at the end of the screen.
In later years, cost of production will lower when we have larger plants. Eg. Cost of production about 20.00 per pair of shoes.
Suggestion for Training 4.000 - 5.000 will get best S/Q and long term effect. In life, it is good to train our workers, so they have better skills.
For Enhanced Styling / Features, we can set from $0 to $50 per pair of shoes, we should balance with number of models, if we produce 350 or 500 models, we need to keep track of total cost. So, we can set about $10 - $20 and more, balance with Percentage of Superior Materials. Check the bottom line for cost of production per pair of shoes for each options.
TQM / Six Sigma Quality Program ($0.00-$2.50 per pair), we can set from $1.0 to $2.50, it is long term effect. Depends of each year we can make decision, in good condition, we can set at $2.50 when we sell high prices, eg. 58 in wholesales and 78 in Internet sales, in this case $2.5 is not much. But when we produce low quality, eg $40, in this case $2.5 for a pair of shoes is cost quite high. So, make it reasonable as you think. We can just set $2.00 or $2.50 for this decision, when we are top companies. In life, top companies spend much on TQM/ Six Sigma Quality Program.
For any decisions, net profit is most important.
Again, play with the numbers. Find the combination that gets you the highest profit. When toggling the wages, always try reducing their pay first. Sometimes they're alright with it and you can increase profits. If not, increase their wage a percent at a time. Sometimes if you go up between 6 and 8, and sometimes up to 14 percent, you'll maximize profits. Do it for each region.
If you have time, optimize to get higher net profit, before any dead line. To get higher Net profit.
Also, note that this table links to Forecast and Wholesales marketing. So, we need to check all three tables at the same time to match our decisions.