Private Label Production
This market is definitely one that we want to be involved in, unless we are the low price provider selling a ton of shoes. In that instance it may not be a money-maker.
In the early years, eg. Year 11, Year 12, when most companies have limited, similar production capacity, 2.000 in NA and 4.000 in AP, with 20% over time. Total 7.200. When we set right decisions, even Low, Medium and High S/Q and number of models 200, 250, 350 and more, in most of cases market demands will be close to supply. So, some smart groups will set high prices for Bidding for Private market, eg. 39.90 but not default 35.00
In some case, some groups do not change default prices 35.00 for a few early years, therefore, in order to get the bidding contract, the prices should be lower than 34.90. How ever, if the market share for bidding is just small, 10-20%, we can set high and still get the contract.
For specific prices, we should check the Market Snapshot to see last year bidding prices.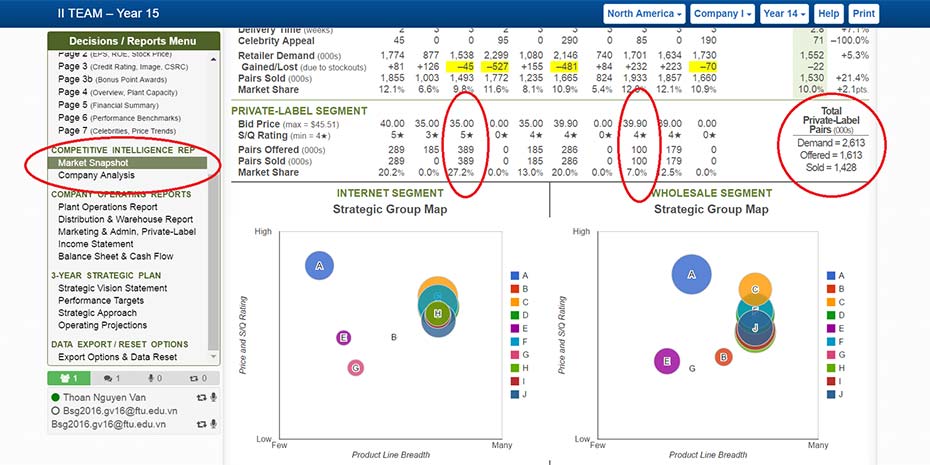 The most important thing here is to be a good estimator of what every other team is going to do, but also to produce the lowest cost shoe. This gives you a much better chance of being profitable.
Winning Tips
We can use all the remaining production capacity that we have to place in the private label market. So if you've got regular and overtime production available, use it. Then, allocate the amount to whichever markets. Look at the margin over direct costs in order to determine if that market will be profitable based on the price we are charging.
This is quite details. We need to check carefully to increase possibility of getting the bidding contract.
Change and toggle the superior materials and styling features so that the price shown for production costs is the lowest it can possibly be.
Meet the S/Q Rating for that round!
If the required S/Q is 4, then we will need to have a 4 S/Q. If you have a 3 S/Q, you will NOTE get the bid contract. Also, we can not set the Price too High hope to get luck here. Because, the Bid price at least 5 dollars below the industry average wholesale price for the region.
We can check the Industry Average price, in the wholesale for each reason, or in Sales Forecast, or in Reports from previous years.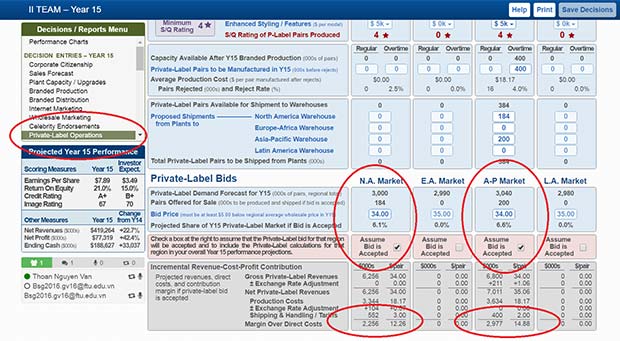 Some strategies are the following:
If no one is involved in the private label market, price your shoes as high as you can ($5 below the wholesale industry average).
If the private label market is competitive, under-price everyone else. It will discourage others from entering because profits will be low. Obviously don't let your margin over direct costs go into the negative. Make sure you pay attention to tariffs and which regions will bring in the most profits.
Take all of the market share in each region or selected regions. This is done by under-pricing everyone else and maxing out the demand in a region. This can hurt other teams, discourage entry, and boost profits. (This looks not very nice, only use when you find other teams doing not fair play).
If we like to control the Private markets, we can build and expand more factories, eg in LA, increase capacity in AP, it is very cost effective. Use three factories can control the whole market.